Home Designs Online is an Australian based business with a great range of pre prepared and fully adjustable home designs you can purchase from us at a very economical price for your own personal construction purposes anywhere you want to build. All our homes have been professionally and architecturally designed to create an enjoyable living experience and to be functional and economical homes to build. Home Designs Online was developed to allow for an affordable alternative to having to pay high fees for architects, designers or builders to draw up expensive plans and building concepts. Once our plan is purchased you can build our design with the builder you choose anywhere you want to build.


A fully adjustable home design package and Autocad files are included in your purchase. If you need to make some personal changes to the design or adjustments to suit the specific conditions of your building site you are able to do so with the CAD package we provide. The builder you choose can upload our CAD files and use this to easily add their own content where needed to take your design to full construction drawings and building approval stages.
Using the copyright in our plans helps overcome some of the issues that some clients have experienced dealing direct with some builders and designers in regard to copyright and ownership of plans and changes made to them by the client.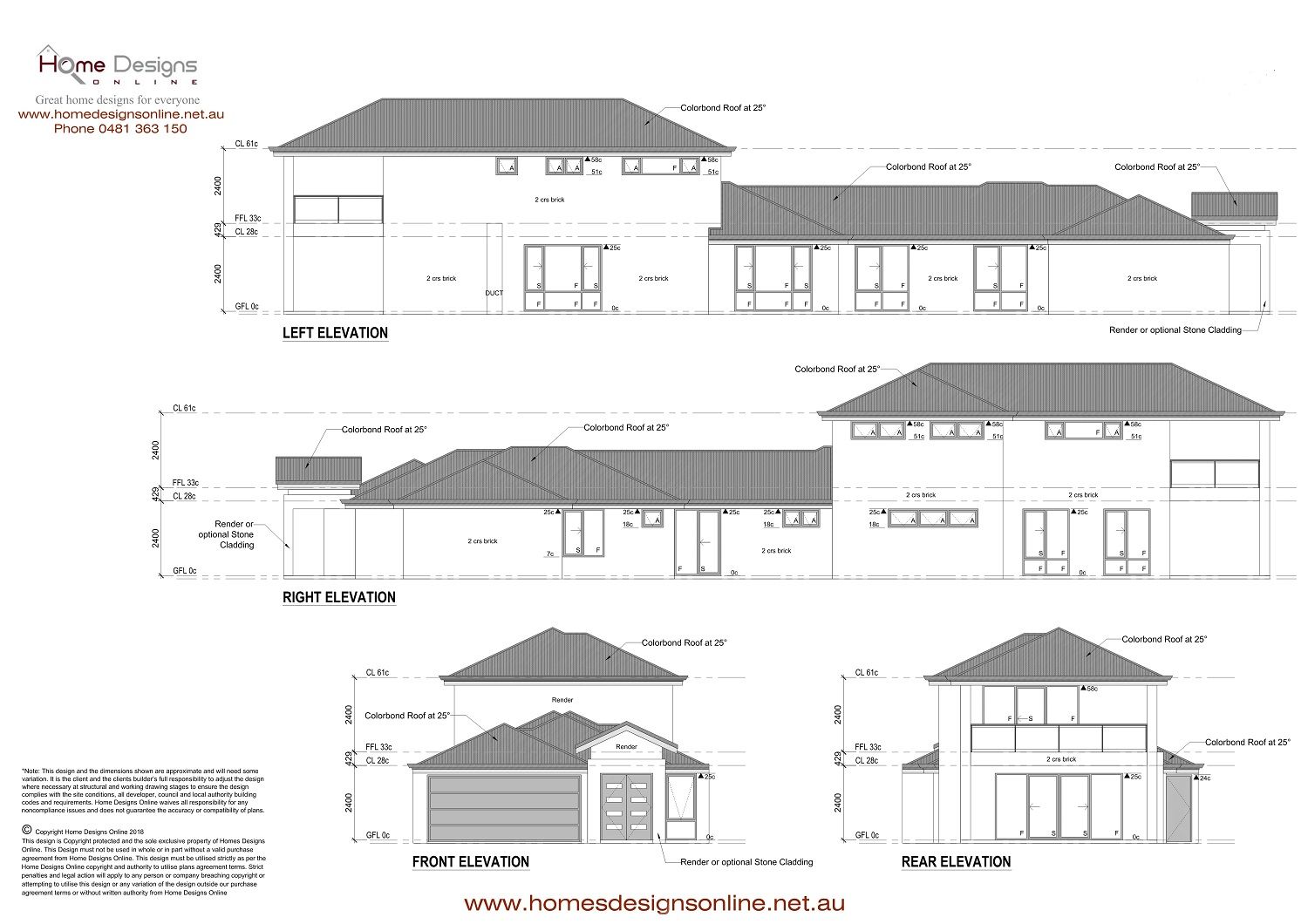 Home designs Online owns the content and copyright of the plans our clients purchase from us. This prevents a builder from implementing his own copyright over our design when a client takes our design to them to quote and build. The client is free to approach more than one builder to get prices to build our design without being tied to one specific builder and their copyright.
Once a client has chosen a preferred builder that builder then has our authority (By way of the purchase agreement terms and conditions) to utilise our design and copyright within the design specifically for the clients construction purposes to construct the clients home one individual time and at one address.
Important information - Home Designs Online has a strict copyright policy. Any use or attempted reproduction our designs or our content is strictly prohibited.
Authorisation strictly applies to plans purchased by our clients from us and by their acceptance of our terms and conditions agreement at the time of purchase.
Harsh penalties and legal action will be taken against any person or builder that attempts to or utilise or copy in part or in whole any of our designs, images or content from our website or via information supplied to our clients by us outside our purchase agreement terms without our authorisation. (Please read our purchase terms and conditions carefully)
We hope you love your Home Designs Online design and enjoy your new home for many happy years to come.
Yours sincerely Scott and the team at Home Designs Online
online solutions to spectacular home design